News and views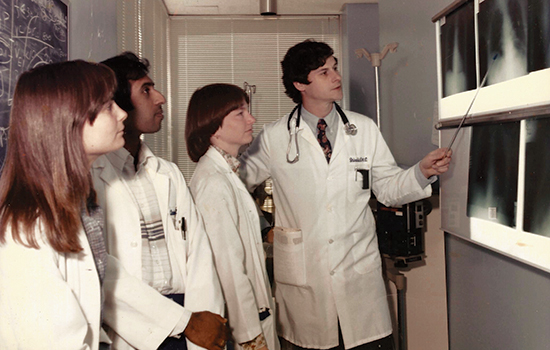 Ralph Brindis 77M
(with pointer) as an attending cardiologist in San Francisco.

Wise Intervention
Brindis and family in Hawaii for his and his wife, Claire's, 40th anniversary in 2012.


---
If it weren't for taking a stand against the Vietnam War, Ralph Brindis 77M might not have gone to medical school at Emory and become a nationally known leader in cardiology practice and metrics.
During the height of the war, Brindis was studying biology at the Massachusetts Institute of Technology (MIT) and, like many other Boston-area university students at the time, thought Vietnam to be an unwise U.S. intervention. After graduating from MIT, he registered as a conscientious objector and received a draft deferment.
He spent the next year at the University of California, Los Angeles, where he earned a master's degree in public health and met his wife, Claire. They married in 1972 and while on their honeymoon, Brindis learned he'd been accepted at Emory.

"It's interesting how paths are made," says Brindis, who retired in 2013 as senior adviser for cardiology with Kaiser Permanente in Northern California. "My deferment definitely affected my ability to get into medical school. I studied extra hard to succeed while I was at Emory, partly because I was turned down by many medical schools. I had to prove to myself that Emory had made a wise offer of admission and that I would become a highly qualified and excellent physician."

Brindis graduated at the top of his class, trained in internal medicine and cardiology at the University of California, San Francisco (UCSF), where he still teaches, and practiced interventional and general cardiology for the Kaiser Permanente Medical Group for nearly three decades.

He also became an active volunteer for the American College of Cardiology (ACC) and one day met William Weintraub, professor of medicine and epidemiology at Emory. During the 1980s, Weintraub established the Emory Cardiac Databank to help hospitals and private practices measure the care they provide. At Weintraub's urging, Brindis joined the ACC's database committee and he quickly saw the value of gathering metrics to improve patient care and outcomes.

His interest and influence in the field evolved. In 1997, Brindis helped establish the ACC's National Cardiovascular Data Registry (NCDR), a natural outgrowth of the Emory Cardiac Databank, to assess diagnostic catheterization and percutaneous coronary intervention procedures.

Brindis became the chair and chief medical officer of the NCDR—with some misgivings at first. "I did not have any training in outcomes research," he says. "I was in the trenches practicing cardiology. The ACC wanted someone who would advise them to 'pull the plug' if the registry wasn't going to work or was not financially viable."

Obstacles emerged along the way, as hospitals and physicians balked at the required efforts, costs, and FTE investments necessarily for collecting and submitting data used to assess performance and outcomes measured to aid hospitals in improving patient care. Still, the NCDR caught on and today includes a suite of 10 registries—eight hospital-based and two outpatient-based—covering various aspects of cardiovascular care.

Brindis continues to serve the NCDR as senior medical officer. Its 70 staff members assess hospitals and private practices across the U.S. The portfolio of NCDR registries house more than 50 million patient records, generating $45 million in annual revenue for the ACC.

"In medicine, we've been very sluggish in assessing what we do and the quality of our work," Brindis says. "The NCDR allows hospitals and physicians to see how they're doing and identify opportunities for improvement, whether they're related to complications from a procedure, use of a medication, a faulty device, or patient indications regarding clinical guidelines. If you don't measure things, you can't manage things."

In 2010, Brindis stepped away from the NCDR to serve as ACC president for a year. He traveled around the country and the world, taking time to "connect the dots"—pairing trainees and young physicians with new mentors and opportunities. "It's an incredible privilege to accelerate someone's career and in turn improve patient care and lives," he says.

He shares that skill with his wife, Claire, who taught allied health at Emory while he was in medical school. She built her career at UCSF, where she directs the Philip R. Lee Institute for Health Policy Studies and the Bixby Center for Global Reproductive Health and, based on her impressive accomplishments, earned election to the National Academy of Medicine. The couple has two sons, both graduates of Emory College. Seth 00C, an emergency pediatric physician, and Daniel 03C, a lawyer with Greenpeace, who live in California.

"Claire is my greatest asset and mentor," Ralph Brindis says. "I admire her for the way she lives her life, her personal discipline, and her selflessness in helping others advance their careers."

In the spring, the Brindises visited Emory, where Ralph spoke to medical students about finding their passion in medicine.

"I've tried to be opened-minded in my path," Brindis told them. "I've sometimes taken on things that I wasn't sure would interest me but invariably led to incredible opportunities. When you get those opportunities, show up. Be present. Don't look at your smart phone or your computer. Work hard. Be selfless. Don't do it for personal gain but because you believe in the mission of what an organization or committee is trying to do."—Pam Auchmutey
---

Where in the world are you?
Invention inspired by needs of Haitians
Specialized operating tables for spinal surgery cost upwards of $100,000. These tables are needed to promote a normal alignment of the spine and to keep the patient steady during surgeries that require stability and precision. Such surgeries in developing countries like Haiti, which averages two neurosurgeons per 10 million residents, already present a daunting challenge.
| | |
| --- | --- |
| | |
Emory medical resident Jonathan Riley and attending neurosurgeon Nicholas Boulis (left) saw this need increase exponentially after the devastating 2010 earthquake in Haiti. They developed a relationship with the organization Partners in Health (PIH), which has a hospital in Mirebalais that provides a location to perform neurosurgeries. Riley began reaching out to companies that produce spinal operating tables, seeking donations, but found limited success. As his departure for a clinical rotation in Haiti came closer, he took matters into his own hands.

With permission, Riley and his team used the Emory physics department workshop and constructed a spinal frame from items purchased at a local hardware store for a fraction of the cost of a specialized table. "The goal was not to create an invention, we simply wanted a strategy to help patients," Riley says. The device adapts a normal surgical table into a spinal operating table, and can collapse to fit into a suitcase-sized container for easy transport. Although it was developed specifically for Haiti, this low-cost solution could be used in any resource-limited setting, or shared among multiple locations. Riley has used the spinal frame on numerous patients in Haiti with great success. For more, go to: haitineurosurgery.org.

Are you doing interesting work in, say, rural Kentucky, New York City, Jakarta, or Taipei? Let us know where you are and what you're doing with a quick email (and photo!) to the editor: mary.loftus@emory.edu.