Gifts of note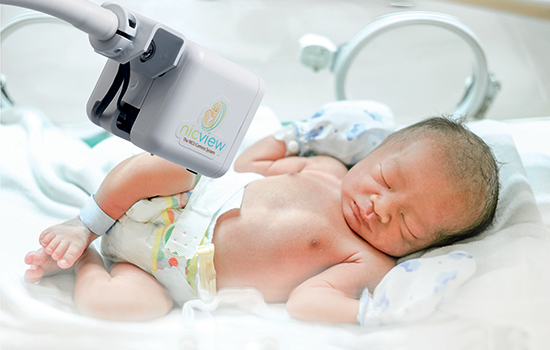 Fragile newborns at Emory Johns Creek Hospital will stay connected to their families through a gift from an Atlanta man who has lived for almost a century: Colin Green, 89. Green gave half of the $36,000 needed for a new camera system in the Level III neonatal intensive care unit. The NICVIEW online streaming system will allow family members to sign on from a phone, tablet, or computer and monitor their child's ongoing care. "I thought it was really, really neat that modern technology can help stressed-out parents," says Green, a retired aerospace engineer and former Johns Creek resident. "I'm a great believer in contributing if I can, and contributing in as meaningful a way as I can."
---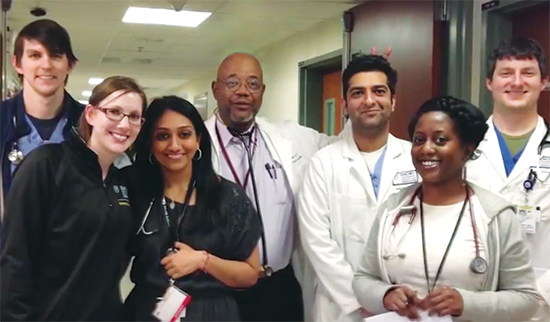 For 17 years, Emory pulmonologist and Professor of Medicine Kenneth Leeper (above, middle) went beyond what was required for Emory patients, students, and research. To Leeper, who died last year, the best outcomes in medicine depended on teamwork, and his hearty laugh and gift for storytelling inspired others to do their best on behalf of patients. Gifts from family and friends established the Kenneth Leeper Memorial Education Fund, which supports clinical research and teaching at Emory University Hospital Midtown, where Leeper was based. The fund will also sponsor projects by nurses in the ICU, respiratory therapists, and other care team members. "For Ken, it was never how well are we doing," recalls Alvaro Velasquez, assistant professor of medicine in the same Emory division. "His thing was: Can we do better? What else can we do for this patient that we haven't done yet? If this were your family member, would you like to do something else?"
---
| | |
| --- | --- |
| | |
| | |
Hemophilia of Georgia has made gifts and pledges of more than $25 million to Emory over the years. One major result: Three endowed chairs (including the Sidney F. Stein Chair in Hemophilia and Hemostasis) and a professorship that enables Emory to attract leading hematologists to Georgia's pediatric and adult treatment programs at a time when many were leaving for oncology. The organization also funds Emory research that is targeting gene therapy, expected to lessen hemophilia patients' need for clotting factor. In honor of their CEO of 30 years, Patricia Dominic, who recently retired, Hemophilia of Georgia gave $2 million to Emory to fund fellowships to train future clinicians and researchers focused on bleeding disorders. To develop clinical scientists, the organization gave generous grants to Emory Assistant Professors of Pediatrics Robert Sidonio and Shannon Meeks, and Assistant Professor of Pathology and Laboratory Medicine Sean Stowell.
---
An anonymous donor has committed $150,000 to support the Emory Department of Otolaryngology Resident Education Fund, honoring the mentorship of former department director John Turner Jr 52C 55M, John Per-Lee, and William Grist 81MR. The department, established with seven faculty members and eight residents, has grown to 30 clinical and research faculty and 20 residents working at six sites around Atlanta. Emory has trained more than 11,000 residents and fellows in this specialty.
---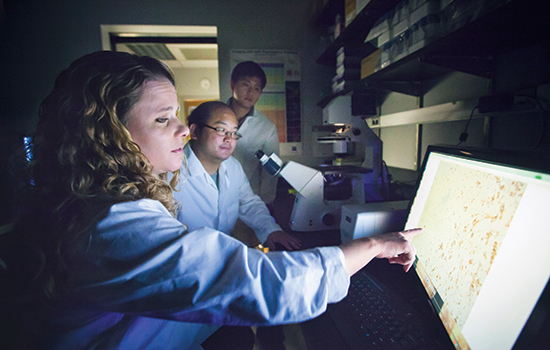 Renee Read's research into pediatric brain cancer received a $50,000 Rally Foundation for Childhood Cancer Research Grant. Read focuses on glioblastomas, the deadliest primary malignant brain tumors in children. She is an assistant professor in the departments of Pharmacology and Hematology and Medical Oncology in Emory School of Medicine and a member of the Winship Cancer Institute. "It is important to fund promising scientists like Dr. Read as we work toward closing the childhood cancer research funding gap so that no parent ever has to hear that there is no curative option for their child," says Rally founder and CEO Dean Crowe.
---
| | |
| --- | --- |
| | |
| | |
The Taylor Foundation gave $10,000 for the 10,000 Women Heart Screening Project, which aims to improve the heart health of African American women in metro Atlanta through free screenings for hypertension. The project is part of the Emory Women's Heart Center, directed by Gina Lundberg, who founded the first cardiac prevention program for women in Georgia in 1998. Heart disease is the leading cause of death for women, and Lundberg pointed out that two-thirds of all people with hypertension are undiagnosed or undertreated. Part of the mission of the Taylor Foundation, based in McDonough, Ga., is to recognize and further quality health care.

---
To learn how you can make a major gift to the health sciences at Emory, call 404.712.4483. To make a gift online, please visit emory.edu/give.