Banking Plasma from Ebola Survivors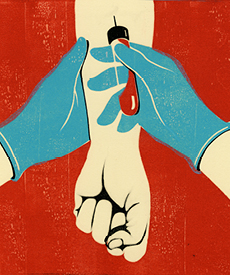 Plasma from people who have survived Ebola may prove extremely valuable, both for therapeutic and research purposes.
To that end, Emory is collecting plasma from the small group of Ebola survivors in the U.S., and storing it for future needs.
Many of these survivors were themselves given "convalescent plasma" from other Ebola survivors, based on the thought that people who survive an illness have antibodies and immune cells that will recognize and fight against the virus, and that this can be transmitted to another by transfusion.
But no careful research has been done concerning this practice with Ebola.
Video Extra


Ebola survivor Nancy Writebol recently returned to Emory University Hospital with her husband David, this time to donate her plasma.
"Donating is a completely voluntary process," says Anne Winkler, the Emory pathologist overseeing the study.
Patients can choose to donate when they are at Emory for follow-up visits.
In total, Winkler says, the hospital has collected 18 units of plasma from six donors.
Of the 10 Ebola patients treated in the U.S., Emory University Hospital treated four in its special isolation unit:
• Dr. Kent Brantly and Nancy Writebol, missionaries infected in Liberia
• Dr. Ian Crozier, infected while working for WHO in Sierra Leone
• Amber Vinson, infected while caring for an Ebola patient at a Dallas hospital.  
British nurse and Ebola survivor William Pooley flew to Emory to donate plasma to Crozier during his illness. Doctors used their own judgment in determining how much plasma to give.
"Some patients have received two units and some patients have received more," Winkler said. "We don't know the optimal dose."
Doctors also don't know if the plasma transfusions have been effective therapeutically.
Questions like these are ones that Winkler hopes Emory's plasma bank will be able to help answer.
A similar trial is being conducted with Ebola survivors' plasma at the ELWA2 hospital outside Monrovia.
The goal is to establish a network of such facilities in the U.S. and abroad.
---
Other Ebola Stories in This Issue:
"Ebola Fighters: Ribner among those honored as TIME's Person of the Year"

"Ebola Survivor Nancy Writebol: Giving Back and looking forward"
The Long, Extraordinary Recovery of Ian Crozier"