Nurse Amber Vinson Grateful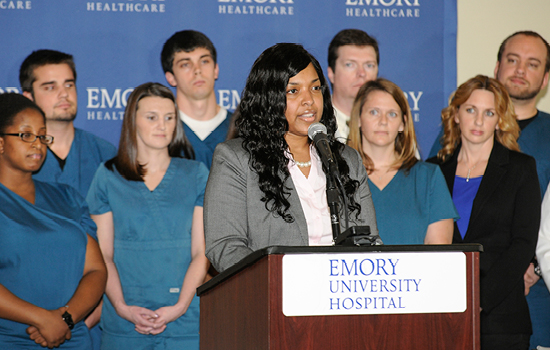 Looking composed and happy, Texas nurse Amber Vinson—one of the first two health care workers to acquire Ebola in the U.S.—sat beside Dr. Bruce Ribner at Emory University Hospital as he announced her discharge from the Serious Communicable Disease Unit on Oct. 28.
"The team is extremely pleased with Ms. Vinson's recovery, and we were inspired by her courageous attitude and the strong support of her family and health care colleagues in Dallas," said Ribner, director of the unit. "As fellow members of the health care community, we greatly admire her dedication. Nurses are on the front lines 24 hours a day."
Vinson, 29, was one of the nurses who cared for patient Thomas Eric Duncan, a Liberian man who became ill with Ebola while visiting family in Dallas and who died Oct. 8 at Texas Health Presbyterian.
Vinson and nurse Nina Pham, 26, both became ill after caring for Duncan. They were the first health care workers to acquire Ebola while caring for a patient in the U.S.
Vinson arrived at Emory on Oct. 15 by private jet. Pham was treated at the National Institutes of Health Clinical Center in Bethesda, Maryland. Both have recovered.
"I am so grateful to be well and, first and foremost, I want to thank God. While the skill and dedication of the doctors, nurses, and others who have taken care of me have obviously led to my recovery, it has been God's love that has truly carried my family and me through this difficult time and has played such an important role in giving me hope and the strength to fight," Vinson said. "And I'd like to thank my family for being there every minute, every day."
She also thanked Dr. Kent Brantly and Nancy Writebol, "both of whom were successfully treated here at Emory, for your donations of plasma for me and other patients, and thank you for your leadership in helping to educate the public about this difficult but treatable disease."
While calling it "a day of celebration and gratitude" for her, Vinson asked that "we not lose focus on the thousands of families who continue to labor under the burden of this disease in West Africa."
Other Ebola Stories in This Issue:
"Banking Plasma from Ebola Survivors"
"Ebola Fighters: Ribner among those honored as TIME's Person of the Year"

"Ebola Survivor Nancy Writebol: Giving Back and looking forward"
"The Long, Extraordinary Recovery of Ian Crozier"
---
Related Resources: