School of Medicine researchers refocus to address COVID-19
Ready, Set ... Pivot
---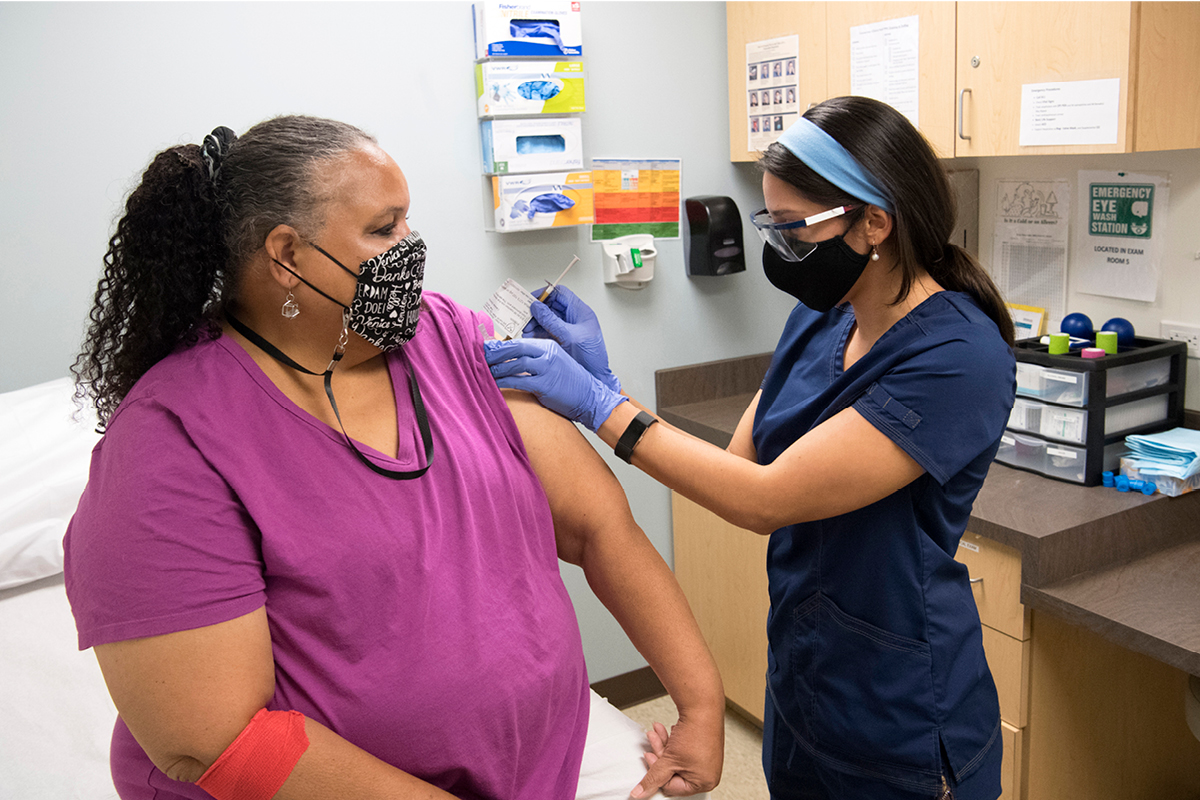 Within weeks after the pandemic began, Emory School of Medicine researchers, working with colleagues from across the university and at partner institutions around the globe, mobilized their resources and expertise to address the largest infectious disease threat to humankind in more than 100 years: COVID-19. Some researchers began anew while others pivoted from their existing work to address the new coronavirus. These COVID-19 activities span the spectrum of the disease—from advancing understanding of the virus to coming up with quicker and more accurate tests to finding treatments and a vaccine. Emory's work is well positioned to go from bench to bedside because of the breadth and interdisciplinary nature of its research; its numerous research centers and facilities, which include one of the world's largest national primate centers; and its comprehensive health system, which is hosting clinical trials for the next lifesaving drug, therapeutic, and vaccine. School of Medicine COVID-19 research projects have received more than $91 million in federal grants in FY2020. Here is a sampling of the work in progress.
The Network
Emory is helping to lead the new COVID-19 Prevention Trials Network (CoVPN), which centralizes efforts to protect against the coronavirus. The federally funded network is recruiting and enrolling thousands of volunteers to participate in the large-scale clinical testing of investigational vaccines and monoclonal antibodies. CoVPN links four existing clinical trial networks including the Infectious Diseases Clinical Research Consortium (IDCRC) based at Emory.
Investigator:
Vaccines
Clinics at Emory and affiliates are playing a key role in testing one of the leading COVID-19 vaccine candidates. Co-developed by scientists at Moderna and the National Institute for Allergy and Infectious Diseases (NIAID), mRNA-1273 was the first investigational vaccine in widespread human trials in the US. Early results have been encouraging; studies published in the New England Journal of Medicine examining Phase 1 of the trial showed the vaccine was generally well-tolerated and stimulated an immune response. Including the CoVPN, Phase 3 is expected to enroll some 30,000 volunteers around the country, with hundreds taking part at three Atlanta clinics. INVESTIGATORS: Evan Anderson, Colleen Kelley, and Nadine Rouphael
Work is also underway on a home-grown vaccine candidate. Funded by a two-year grant from NIAID, the effort is aimed at taking Emory's extensive research on an MVA vaccine for HIV and adapting it for the new coronavirus. MVA is a harmless version of a poxvirus with a proven record of promoting long-lasting antibody and T-cell responses. MVA vaccines can be used in combination with other vaccines to enhance the immune system's response. A trial in mice is complete, and nonhuman primate studies are in progress.
Investigator:
Repurposing Drugs
Could drugs already approved for one use be effective against COVID-19? Emory researchers are investigating drugs that have shown antiviral activity in cell culture for COVID-19 and in animals infected with MERS and SARS, coronaviruses similar to COVID-19. Since the drugs work at different points in the viral life cycle, they might work in combination with each other or with antivirals, like remdesivir. Other drugs being tested in novel cell culture assays may dampen the excessive immune response often seen in severely ill patients. All of these drugs are already on the market, widely available, and inexpensive.
Investigators:
Rabindra Tirouvanziam
Joshy Jacob
Manoj Bhasin
Raymond Schinazi
Vikas Sukhatme
Keivan Zandi
Monoclonal Antibodies
Studies are also underway to gauge whether manufactured versions of infection-fighting antibodies are effective in protecting against and treating COVID-19. Produced in laboratories, these synthetic antibodies are known as monoclonal antibodies. The CoVPN is focused on monoclonal antibody testing efforts. Here are some of the trials being conducted at Emory:
A Regeneron–sponsored trial to test the effectiveness of a human monoclonal antibody cocktail. Emory is participating in two programs for REGN-COV2, which comprises two antibodies. One targets patients in the hospital with COVID-19, including those on ventilation; the other studies outpatients with the disease.
An Eli Lilly–sponsored trial is studying a monoclonal antibody candidate for treating hospitalized, but noncritical, COVID patients. The drug candidate (LY-CoV555) is being tested in nonhospitalized COVID-19 patients. In another trial, jointly funded by NIAID and Lilly, investigators will evaluate the same monoclonal for its ability to prevent moderate to severe COVID-19 in residents of nursing homes and assisted-living facilities in Georgia. This statewide study is part of a larger, nationwide research project.
A NIAID-sponsored clinical trial to evaluate the safety and efficacy of an experimental monoclonal antibody (LY-CoV555) in combination with an antiviral, remdesivir, for treating patients who have been hospitalized with mild to moderate COVID-19.
A study that will assess the efficacy and safety of the human monoclonal antibody, gimsilumab, in patients with lung injury or acute respiratory distress syndrome due to COVID-19. Researchers have received a grant from Kinevant Sciences, which is part of the pharmaceutical that makes the drug compound. 
Investigators:
Marshall Lyon
Nadine Rouphael
Sri Edupuganti
Michael Hart
Jens Wrammert
Carl Davis
Bradley Leshnower
Researchers are studying monoclonal antibodies from lampreys to better understand the new coronavirus. Lampreys are an ancient species of fish resembling eels and provide important clues for researchers about the evolution of our immune system and potential ways to fight new pathogens. The monoclonal antibodies produced by this project will be used for virus isolation and diagnosis and could support the work of other researchers to develop therapies.
Investigators:
Max Cooper
Masayuki Hirano
Therapeutics
When the Food and Drug Administration this spring granted emergency–use authorization to use the drug remdesivir to treat COVID-19 patients, Emory shared in the good news. Emory is part of the Infectious Diseases Clinical Research Consortium (IDCRC), and a global network of NIAID sites that tested the antiviral. Emory recruited more patients than any other site around the globe. Researchers are continuing to evaluate the longer-term impact of remdesivir, an experimental medication administered by infusion.
Emory is also taking part in the next iteration of the study, which combines remdesivir with baricitinib, an oral, anti-inflammatory drug already approved by the FDA for rheumatoid arthritis. The study will explore baricitinib's ability to calm the hyper-inflammatory response (also called cytokine storm) that the novel coronavirus causes in the lungs and determine whether the drug is best used alone or in combination with remdesivir.
Investigators:
Vincent Marconi
Aneesh Mehta
Nadine Rouphael
Raymond Schinazi
Emory Vaccine Center Infectious Diseases faculty
Researchers have launched another trial with an immunomodulator called imatinib or nilotinib to limit hyperinflammatory responses characteristic of severe COVID-19 disease.
Investigators:
Nadine Rouphael
Marshall Lyon
Daniel Kalman
Emory Infectious Diseases faculty 
A research team is using low-dose radiation therapy (LD-RT) to treat COVID-19 patients to reduce the pulmonary inflammation that severely affects these patients and threatens their ability to breathe on their own. The first cohort in this Phase 1/2 trial will consist of five critically ill, hospitalized patients not currently on ventilators, and it is hoped that the LD-RT will reduce their risk of requiring mechanical ventilation.
Investigators:
Mohammad Khan
Clayton Hess
Emory investigators are testing whether an anticancer drug can reduce lung inflammation in hospitalized COVID-19 patients, possibly preventing the need for intubation and lowering mortality. The drug is called duvelisib, and it was FDA-approved in 2018 for the treatment of a certain type of leukemia. This Phase 2 study is supported by duvelisib's manufacturer, Verastem Oncology. The Emory team plans to recruit 40 patients hospitalized with COVID-19 pneumonia.
Investigators:
Edmund Waller
Aneesh Mehta
Marshall Lyon
Virus-Neutralizing Antibodies
Researchers at Emory have found that nearly all people hospitalized with COVID-19 develop virus-neutralizing antibodies within six days of testing positive. While most other studies on the topic have focused on the immune response after hospitalization, Emory used its biosafety level 3 laboratories to do the more time-consuming work of studying patients' antibody response during hospitalization.
The study's findings have implications for convalescent plasma therapy and vaccine development. Using this research, clinicians will evaluate the use of convalescent plasma with high levels of neutralizing antibodies as a treatment for the new coronavirus. The FDA has authorized the emergency use of convalescent plasma therapy as an experimental treatment in clinical trials and for critically ill COVID-19 patients.
Investigators:
John Roback
Sean Stowell
Colleen Kraft
Nadine Rouphael
Aneesh Mehta
Rafi Ahmed
Jens Wrammert
Mehul Suthar
Blood Clotting 
Georgia is in the so-called stroke belt, a swath of Southern states where age-adjusted stroke mortality levels are high. So, COVID's links to blood-clotting problems were particularly worrisome. Emory researchers are leading a study to identify blood tests that can help determine which COVID-19 hospital patients are at the highest risk for developing blood clotting disorders that cause stroke, heart attack, or clots in the lungs, legs, or arms. Preliminary studies have shown that certain blood biomarkers can identify high-risk patients early and, with early use of blood-thinning medications, prevent clotting complications. Another study is looking to understand why an enzyme that causes clotting becomes dysregulated during the course of the infection, which can be especially harmful to patients with pneumonia who are at high risk for respiratory failure and require, in extreme cases, an artificial lung.
Investigators:
Emory 

stroke, neurology, and heart and vascular researchers
Diagnostics
Millions of accurate, widely accessible COVID-19 tests in time for flu season—that's the ambitious goal of a $1.5 billion National Institutes of Health (NIH) initiative. Emory is one of three Atlanta institutions selected to vet the most promising diagnostic technology. Working with their counterparts at Children's Healthcare of Atlanta and Georgia Institute of Technology, Emory researchers will put the technologies through a competitive, rapid three-phase selection process to identify the best candidates for at-home and point-of-care COVID -19 tests. The $31 million funding for this project is the largest NIH grant Emory has received in a single budgetary year.
Investigators:
Wilbur Lam

Greg 

Martin
Oliver Brand
Emory has developed a SARS-CoV-2 antibody test to enhance disease detection. An antibody or serological tests can help answer critical questions such as virus neutralization, disease progression in populations, exposure to the virus, and infection spread. Emory's antibody test identifies the exact type of antibody that prevents the COVID-19 virus from connecting with and entering human cells, which allows physicians to better predict whether someone with a positive antibody test result is likely to be protected from future infection. Emory experts are also evaluating devices that collect plasma samples from blood droplets—taken by a finger prick—which can be transported safely through the mail or by courier to Emory Medical Labs for the Emory antibody test. This innovation would combine "point-of-care" testing with the rigor of Emory's antibody test. To facilitate widespread antibody testing in the state, a reliable device for at-home sample collection is important.
Investigators:
Rafi Ahmed

John 

Roback
Mehul Suthar
Jens Wrammert
Share This Story