SHARE AND SHARE ALIKE
Winship Cancer Institute's New Shared Resources Hub
---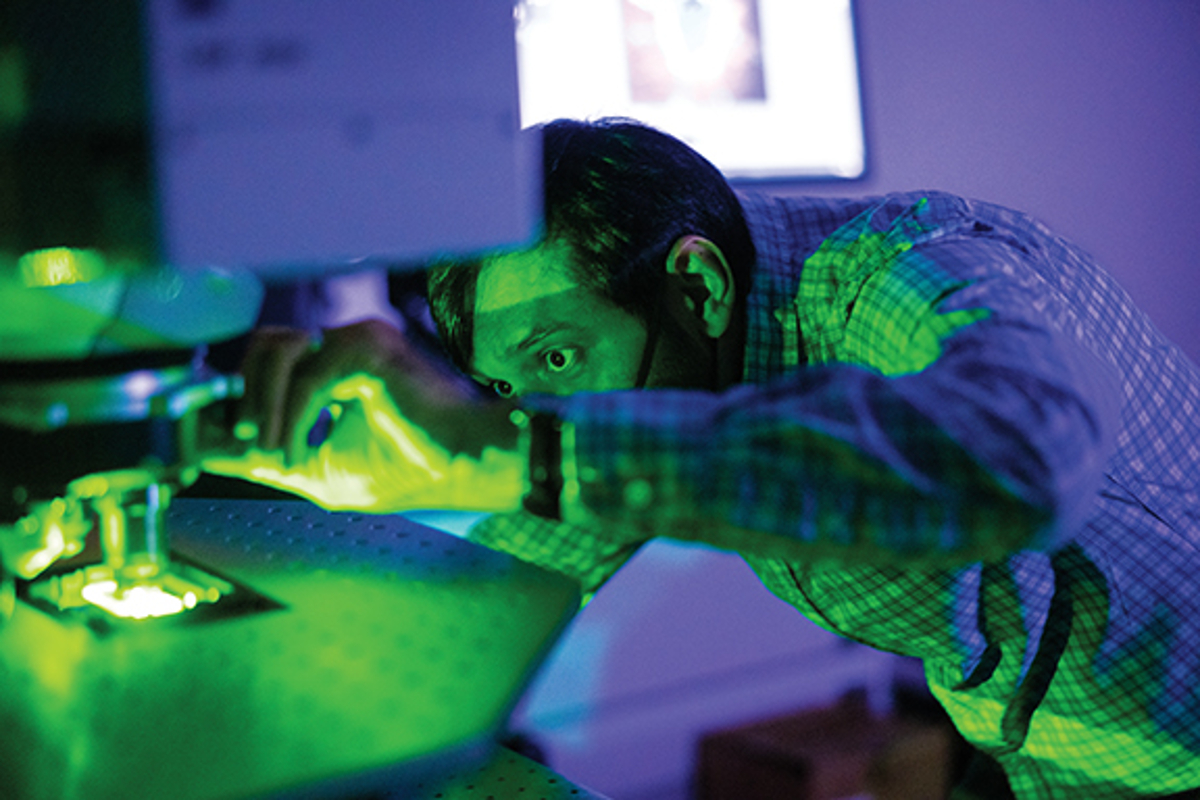 The amount of expensive technology amassed in modern research labs is stunning. A flow cytometer alone can cost hundreds of thousands of dollars.
Fittingly, collaboration and consolidation have become priorities, with some labs being designed or renovated to serve as shared resource hubs. These modern, bright spaces can accommodate multiple users, frequent visitors, and high traffic volume, as well as providing common space for brainstorming. 
Take, for example, the new Shared Resources Hub at Winship Cancer Institute. Centrally located in Emory Clinic Building B on Clifton Road, the suite brings under one roof more than half of Winship's 12 core facilities. The hub provides broad access to advanced technologies, services, and expertise to support investigators from multiple disciplines. "This renovation has created a modern space designed to support multiple shared resources and collaborative, interdisciplinary workflows," said Winship Deputy Director Adam Marcus, scientific director of the Integrated Cellular Imaging Shared Resource. "It will meaningfully benefit our people and the groundbreaking science our shared resources help facilitate." 
The research hub has private offices with outside windows and frosted glass that allow natural light to spill into the hallways. Conference rooms provide hybrid meeting technology. The hallways and meeting spaces have comfortable sitting areas with white boards, and the breakroom has multiple tables for eating and science talk. "Light feels good when you're in an interior environment," says Rebecca Doolittle, associate director of facilities at Winship. The previous labs were "dark and felt like somebody's basement. They had been built in the 1980s, so the bench layout was antiquated and there was only one small shared resource along with a dry lab and a freezer farm." 
In the new, spacious wet and dry lab areas, workflow processes and movements are well thought out. The hub is now the primary location for the Biostatistics, Cancer Animal Models, and Cancer Tissue and Pathology cores, and is an additional site for Flow Cytometry, Integrated Cellular Imaging, and Cellular and Immunotherapy.
Working in proximity helps investigators prevent redundancy and integrate skill sets, says Finesha Colton-Lee, director of research administration operations at Winship. "Let's say someone needs help with tissue processing — they are sitting right by the Tissue Core. You don't have to have a tissue processing specialist in each unit," she says. "Also, with flow cytometry, customers will be there using that core, but we have some other cores that use flow cytometry as well, and they would be able to work together to meet those needs at a greater level." 
The research suite is "very inviting," says Monica Cloyd, research manager of facilities planning at Winship. "I love that we have consolidated all the shared resources that had previously been scattered across Winship and the Emory campus in different buildings. We're going to see a big boost of researchers using the resources." 
Having a common drop-off point for samples already has increased traffic flow. "It's been nice, as people are coming in to drop things off and pick things up, they also start discussing their projects with our team," says Jennifer Robertson, director of research projects at Emory. This neighborly feel leads to swapping both supplies and information.
"It's a close-knit group, and experts from the different cores are happy to interact," says Robertson, technical director of Winship's Cancer Tissue and Pathology Shared Resource. "People will say, 'Oh, you're with CAMS (Cancer Animal Models Shared Resource), let me ask you a quick question about my study.' Another day, someone working next door came over and asked, 'Can I borrow your oven?' " (And no, this isn't a kitchen-type oven that bakes cookies, but a countertop lab oven that provides pinpoint temperatures and is used for tasks like drying slides.) "If you don't know each other, you might not walk around looking for that kind of thing," Robertson adds. 
The space welcomes researchers from all disciplines. "Having an open, modern, and flexible work environment should facilitate and accelerate strong collaborations," says Jeffrey Switchenko, director of the Biostatistics Shared Resource at Winship. 
The staff has a "daily huddle" every morning in the main lab. "And the big conference room is available when we have visiting groups," Robertson says. 
This proximity of staff and equipment benefits investigators who require multiple resources to address a complex scientific question, says Gregory Lesinski, associate director for Basic Science and Shared Resources at Winship. "Data and biospecimens can be efficiently passed among the shared resources to maximize use of technology and minimize transit time," he says. 
Because so much of the technology and equipment is new, there's a bit of a learning curve for hub users. "If you build it, they will come," Colton-Lee says. "The new technologies are here, and we want to be at the front of the research by helping and supporting the researchers. This is truly transformational."
Share This Story