News and views from Emory School of Medicine
Healthcare by Design
---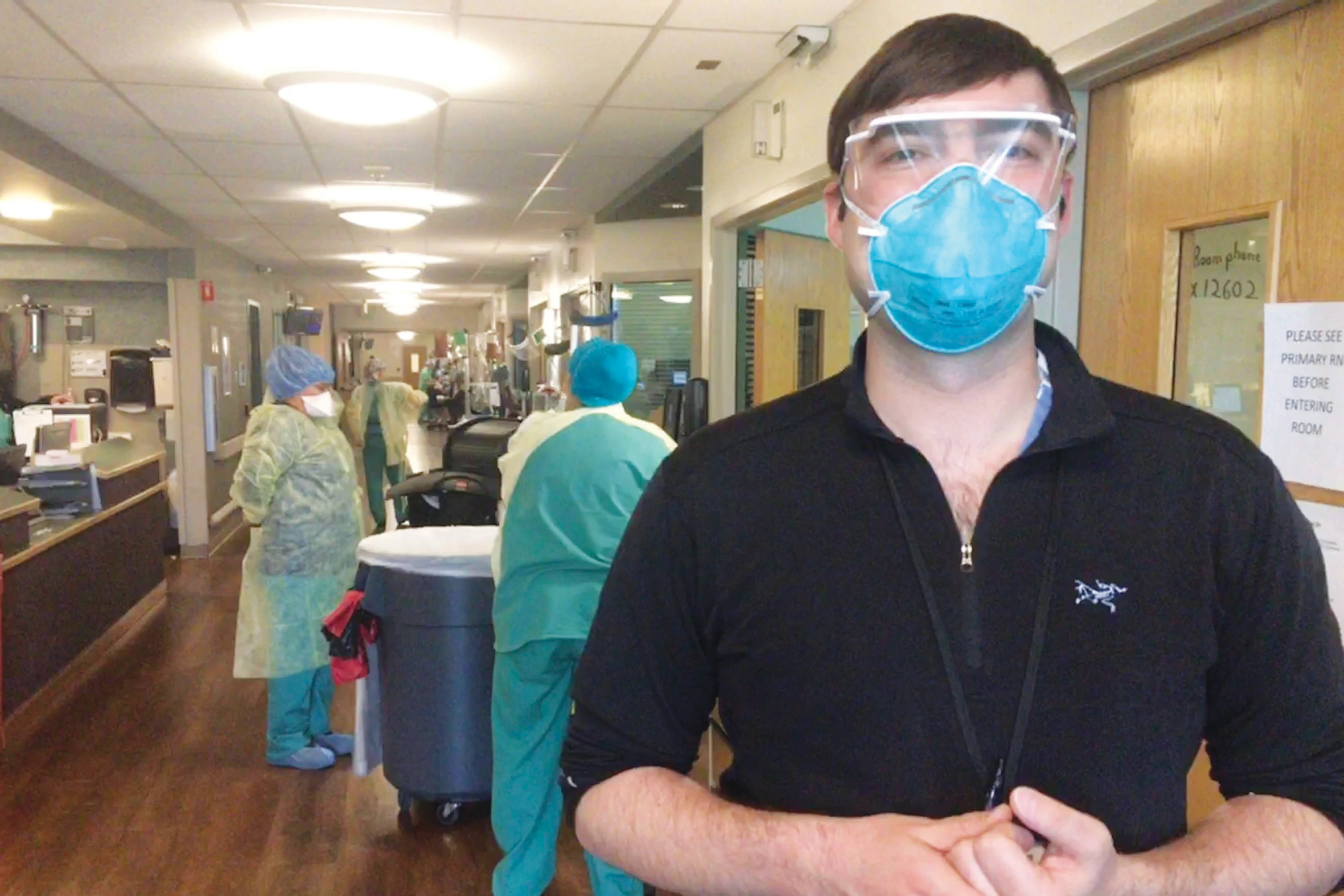 At Emory, Byron Crowe 17M was president of the Emory Cycle and Triathlon Club. Now, he excels in a different type of exercise: the design sprint.
Crowe is co-founder of Healthcare by Design, a nonprofit that uses human-centered design to improve clinical care spaces. The organization places people firmly at the center of care by focusing the needs of patients, families, and staff. Healthcare by Design has run design sprints with participants from across the globe, training healthcare workers in design methods and exploring innovative solutions to the most pressing problems. Crowe's fascination with improving health systems began years ago.

An Atlanta native, Crowe earned his undergraduate degrees in biochemistry and molecular biology and history at the University of Georgia before taking a job at Emory Healthcare. As a program coordinator in the Office of Quality and Risk, he reported to William Bornstein, the chief quality and medical officer at Emory, who taught him the foundations of healthcare quality improvement. At Emory's School of Medicine, he became interested in a parallel form of systems improvement called design thinking, which looks at how humans interact with a complex system.

Crowe explored this field in-depth during his residency, when he worked as a physician-in-training and medical director at a healthcare technology startup, Solera Health. At Solera, he guided the organization in deploying digital health tools to help commercial insurers address chronic disease prevention and management using evidence-based approaches. 

"Understanding people is a critical part of deploying our digital health capabilities," he says. "When we put ourselves in our users' shoes—looking at their clinical, social, and emotional circumstances—we can see the world through a new lens that allows us to design solutions that can be broadly adopted."

Crowe not only examines the clinical evidence behind the intervention, he asks, "What is this going to do from a physiological standpoint?" and "How do we deploy it in real life with real human beings?"

Humans, he says, are not only driven by a desire to achieve optimal health. They have competing demands on their time and energy.  

He favors spaces that "allow a mixture of clinical knowledge—the scientific background on the treatment and management of disease—with the opportunity for creative exploration of large, unstructured problems." 

His fusion of design thinking—aptly called human-centered design—and quality improvement methodologies enable him to effectively analyze medical problems embedded in complex personal and social contexts. 

His work with design thinking and quality improvement was recently showcased in the article, "To Improve Quality, Leverage Design," published in BMJ Quality and Safety, the leading international journal for healthcare quality improvement.

Healthcare By Design has hosted international design sprints with hundreds of participants to tackle problems such as maternal health, the digital revolution in health care, and delivering COVID-19 vaccines to children.

The process of a design sprint, which can last anywhere from a half-day to several months, is based on the double-diamond model developed by the British Design Council. It features a four-step process: discover and diverge, define the problem, develop a variety of solutions, and deliver the solution. 

Last year, Crowe used this process to mentor an Emory team in the Pre-Applications Clinical Knowledge and Skills block of Emory School of Medicine's curriculum. The team, which created a prototype within the electronic medical record to contextualize high-risk radiology results made available to the patient, was a finalist in the competition.

When it comes to his own solutions, Crowe's expertise lies in digital health. Most people think of digital health as telehealth or the electronic medical record, he says, "but digital health is much broader than that. Digital health encompasses all the different ways that computers and computing technology enable us to deliver healthcare differently." 

Examples include wearables, health-monitoring apps, and more. "I think of it as the intersection between analog care and human capabilities," he says. "What can we do with our minds and our senses, and what can we do to use the power of computers to take in and analyze data and produce insights." 

This past year, Crowe graduated from residency and began work as an academic hospitalist at Beth Israel Deaconess Medical Center and instructor in medicine at Harvard Medical School. He continues to pursue his work in digital health as Chief Medical Officer at Solera, alongside his ongoing work at Healthcare by Design, and is planning to complete a master's in clinical informatics at Stanford.
Share This Story