Severe COVID-related Illness in Children
---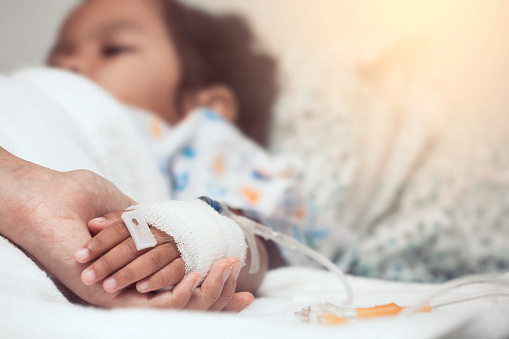 Multisystem inflammatory syndrome in children (MIS-C) is a rare but serious complication of coronavirus infection.
It appears to be a delayed response, emerging weeks after an initial COVID-19 infection that is often asymptomatic. 
A paper published in July by researchers from Emory and Children's Healthcare of Atlanta describes five patients who developed neuropsychiatric symptoms as a consequence of COVID-19 or MIS-C. These symptoms may result from viral infection of the brain, as well as the immune system's inflammatory response to the infection.  
Three of the five patients developed acute psychotic symptoms, such as hallucinations. One, an 11-year-old girl, was a recent immigrant to the United States, who was temporarily separated from her parents. She developed respiratory failure and went into shock, then experienced hallucinations and agitation while in the hospital. Her altered mental state lasted a few days, dissipating after treatment with anti-inflammatory drugs. (The children with MIS-C were treated with anti-inflammatory corticosteroids and another immune-calming drug, intravenous immunoglobulin.)  
Another of the three was a 15-year-old male who, after becoming ill, displayed "obsession with numbers, hyper-religiosity, hyper-sexuality, visual hallucinations, fast speech, and disorganized thoughts," according to the paper. 
Two of the five were younger—less than two years old—and they experienced seizures and altered mental status. Doctors know that all of the children were infected with the coronavirus because their blood or spinal fluid contained antibodies against it, but sometimes their nasal swabs tested negative for the genetic material of the virus itself. 
"There has been an increase in psychiatric symptoms in general during the pandemic, due to factors outside of COVID and inflammation," says the lead author, pediatric neurologist Grace Gombolay. "These factors include anxiety about the pandemic and COVID itself, social isolation, economic stressors, loss of loved ones, and how our lives have changed. Even though these patients received immune therapy related to MIS-C, most patients with psychiatric symptoms improve with medication and do not need immunotherapy." 
Even though neuropsychiatric symptoms from pediatric COVID-19 or MIS-C are frightening, they're relatively rare, says Emory Assistant Professor of Pediatrics Christy Rostad, an infectious disease specialist at Children's Healthcare of Atlanta. What brings kids to the hospital are persistent fever, abdominal pain, vomiting, diarrhea, and rashes. Children with MIS-C can develop low blood pressure (shock) or cardiac problems, such as chest pain and an irregular heartbeat, requiring intensive care."Those are what we worry about the most," Rostad says.
Share This Story