---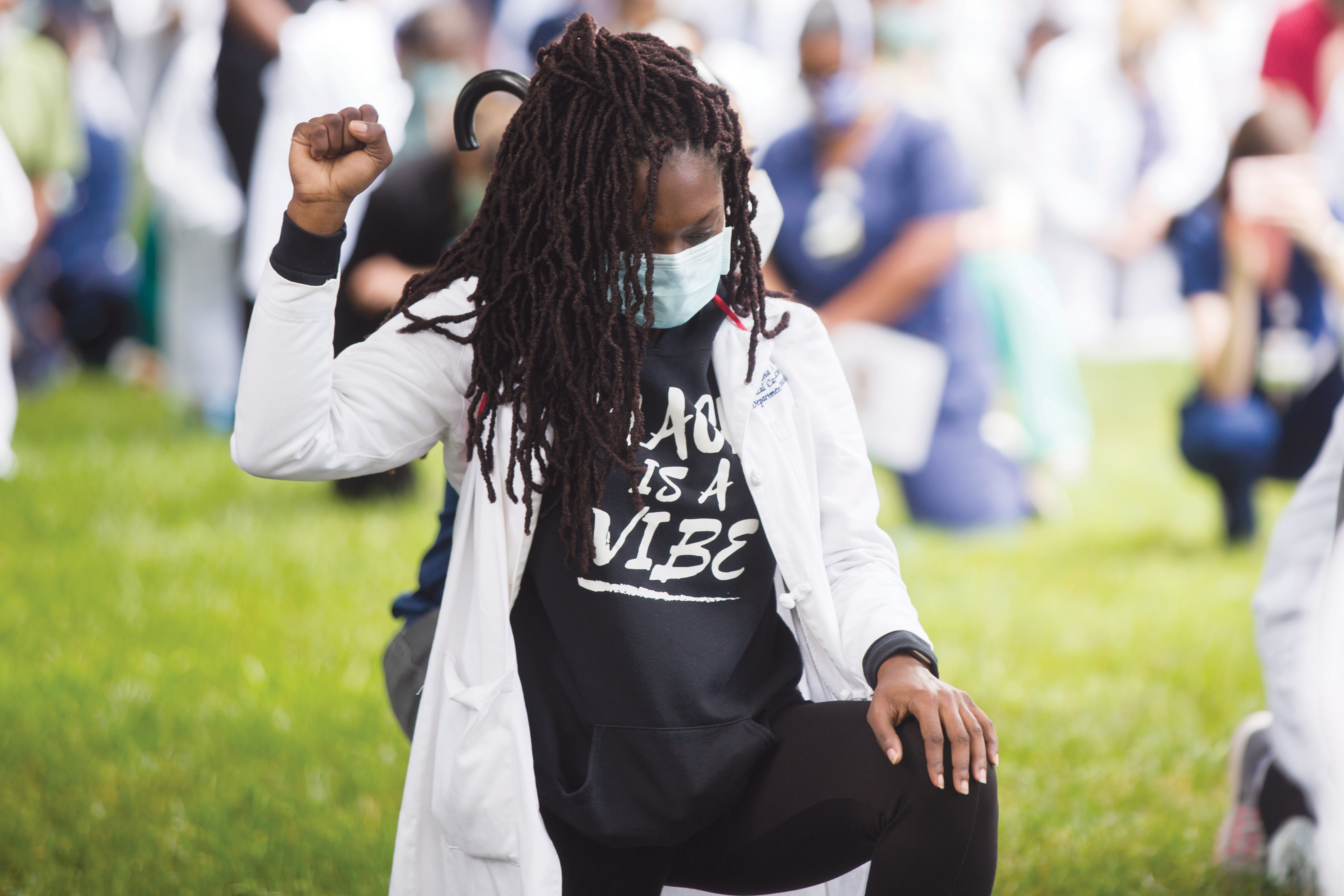 The two doctors looked at each other in awe. Were that many people really peering expectantly at them through Zoom on a hot Friday afternoon, united in celebration of Juneteenth?
"It was an incredible moment," says Carolyn Meltzer, the medical school's chief diversity and inclusion officer and executive associate dean for faculty academic advancement, leadership, and inclusion. "We had just witnessed the police killing of Rayshard Brooks here in Atlanta and before that the killings of George Floyd, Breonna Taylor, and Ahmaud Arbery. We were seeing the disproportionate toll COVID-19 was taking on people of color. Everywhere we looked we saw the deadly fingerprints of racism. We thought the panel discussion on the significance of Juneteenth would be of interest."
"And then 1,000 people showed up," finishes Sheryl Heron, the school's associate dean for community engagement, equity, and inclusion. "Systemic racism had been laid bare. What I saw every day in the ER, in my own life, was what our entire nation finally could not unsee: Black people dying in staggering numbers from virus and violence. Asian people vilified and terrorized. In the midst of all this darkness, having so many people show up for Juneteenth reignited our passion for bold action." 
Passion drives both Heron, one of the first African American women in the US to achieve the rank of full professor in emergency medicine, and Meltzer, the William P. Timmie Chair of the Department of Radiology and Imaging Sciences and a longtime advocate for gender equality in medicine. The Sunday after George Floyd was killed, Meltzer and Heron joined other Emory officials in discussions about action. "We all agreed our response had to be different this time. Platitudes and prayers weren't going to cut it," Meltzer recalls.
"When we floated the idea of the Juneteenth celebrationas well as a race and social justice webinarseries, the answer was, 'Do it!'," Heron adds.
An Intensely Personal Process
Led by Meltzer and Heron, groups met over nine months to create the School of Medicine's first diversity, equity, and inclusion strategic plan. An 18-member steering committee defined the overarching goals and then stakeholder groups—one each for faculty, staff, and learners—prioritized initiatives to achieve those goals. Stakeholder groups worked independently to ensure the plan would address each constituency's needs.
The process was unusual. Participants Zoomed into work sessions from the hospital, their kitchens, their cars. Even without physical proximity, the work felt deeply personal, says Rachel Sedlack-Prittie, senior director of strategic initiatives and innovation, who co-facilitated the planning process with colleague Jaimie Keough.
"This was about people's lived experiences of marginalization, their life's work of confronting inequities. I wasn't just a facilitator of a process; I also became a keeper of knowledge and a witness to pain," says Sedlack-Prittie. "It really changed me, and I came out of it with a profound respect for our leaders and the work they're doing."
Heron and Meltzer turned to Carol Henderson—vice provost for diversity and inclusion, chief diversity officer, and adviser to the president—for a linguistic compass and found it in the Institutional Statement on Diversity issued by Henderson's office in August 2020, which included foundational definitions of diversity, equity, inclusion, and equity- mindedness.
"Because the School of Medicine team has been working so closely with my office, this important plan aligns with the university's broader DEI plans, and I'm excited by the synergy," says Henderson.
The result is an ambitious, actionable plan for ensuring that diversity, equity, and inclusion are consistently understood, practiced, and embraced across the School of Medicine. The goals: an inclusive culture and climate that nurtures awareness, learning, and growing with meaningful community engagement and impactful research. 
Let's meet some of the people putting the plan into action.
Goal 1  |  Promote and sustain a healthy and inclusive climate that provides a sense of authenticity and belonging for all community members to feel valued, supported, and fully engaged through equitable and accessible opportunities.
First-year medical student Mariam Torres Soto 24M felt flattered when asked to join the Learners Stakeholder Group. Proudly Puerto Rican, Torres Soto chose Emory for medical school because it serves such a diverse metropolitan area: according to the 2020 US Census, 62 percent of the population is nonwhite and 13 percent is Latinx. She loves the region's vibrancy but was surprised by the paucity of Latinx learners and faculty in the School of Medicine—something she wants to help change. 
 "I'm glad DEI is on the school's radar, and I love it here, but there needs to be more input from our Latinx students and faculty. That's why I'm staying involved," Torres Soto says.
The School of Medicine is committing resources to better support affinity groups such as the Latino Medical Student Association and the Asian Pacific American Medical Students Association to ensure all learners experience a genuine sense of belonging, engagement, and achievement. 
Jason S. Schneider, associate professor of medicine, has devoted his career to promoting inclusion and equity in the clinical-care setting and across medical education. Of particular concern is ensuring equity and safety for gender-diverse people. He's the founder of the LGBTQ Faculty Affinity Group, whose work on recruiting, onboarding, and retaining eminent LGBTQ faculty physicians, scientists, and advanced-practice providers will be strengthened, as will the LGBTQ learner group. An LGBTQ staff group is next. 
Schneider's leadership in establishing the Grady Gender Center, a multidisciplinary clinic addressing the health care needs of transgender and gender-nonbinary patients, shows how the DEI framework can expand inclusive clinical care for vulnerable populations. 
Goal 2  |  Design and implement an educational portfolio for learners, staff, and faculty that infuses principles and competencies of equity, cultural humility, antiracism, bias mitigation, and respect for all members of our community.
During summer 2020, the Racism and Social Justice webinar series explored topics such as Bias in Clinical Decision Making, Inclusive Leadership, Microaggressions under the Microscope, and Being an Authentic Ally. 
"Enriched by these sessions, we then gathered all the information needed to guide priority setting," says Natalie Fields, director of faculty advancement and inclusion in the school's Office of Faculty Academic Advancement, Leadership, and Inclusion. "We also studied DEI programs already operating in the medical school so we could build on what works." 
The result is the Actionable Education Initiative, which moves the School of Medicine community from awareness of internal biases and external forces of marginalization and oppression to learning about their origins and repercussions and growing into antiracist allies actively working for change. It has four pillars.
Antiracism Jada Bussey-Jones 88C 92M, professor and chief of general medicine and geriatrics for Grady Memorial Hospital, chairs the Antiracism Subcommittee, which she calls "a transformational process. As someone who has been with Emory for close to three decades—first as an undergraduate, then a medical student, and now as a faculty member in a leadership position—I have lived the evolution of this institution."
Antiracism work, she says, starts with grace. "Discussions of race are so challenging. We have to start by giving each other grace and assuming good intent. When we find commonality, we can start to unpack the painful past and move to a shared healing in the present."
History Co-chairs Nate Spell, professor of medicine and associate dean for education and professional development, and Tyrese Hinkins-Jones, associate director of medical education, explain the history project as a "living repository to which knowledge of the past will be added as it is garnered and to which the lived experiences of our community are added as they occur." It expands the university's larger reckoning with its past to include Emory Healthcare, Grady Hospital, and Children's Healthcare of Atlanta.
Implicit Bias Education Co-chair Nancy DeSousa leads the Office of Multicultural Affairs's diversity programs for residents and fellows in the medical school's 27 departments. She combines implicit bias training with an action-based framework to help learners respond to microaggressions, misconduct, and other behaviors that threaten an inclusive environment, including exercises on cultural humility.  
That approach is important for Michelle Wallace, assistant professor and chair of the Department of Pediatrics Diversity and Inclusion Committee, who studies bias in clinical decision-making. "Medicine is really an apprenticeship," she says. "Our learners gain a lot from textbooks, certainly, but there's a lot more they learn from the way we handle things in clinics, in our interactions with patients."
The plan calls for everyone in the School of Medicine to complete Implicit Bias Training to grow from awareness and understanding to action for change.
From Bystander to "Upstander" Kimberly Manning, professor of medicine and associate vice chair, diversity, equity, and inclusion for the Department of Medicine, and Christopher Ho, associate professor of radiology and director of the Diagnostic Radiology Residency Program, regularly teach an action-based framework for responding to microaggressions, misconduct, and other behaviors that threaten an inclusive environment. Their work will be adapted for both synchronous and asynchronous training to equip faculty, staff, and learners with the skills to respond when they witness or are recipients of microaggressions or other negative behaviors. 
Goal 3  |  Intentionally integrate the principles of equity and inclusion in our interactions, spaces, policies, and practices to break down structural and systematic racism, homophobia, transphobia, gender inequities, ableism, and all other barriers that impact marginalized groups. 
As executive administrator of human resources for the School of Medicine, Cliff Teague co-led the Staff Stakeholder Group. "I came to the table humbled by the opportunity to hear and amplify what it's like for staff to navigate the recruitment and employment life-cycle," he says. 
To Teague, a diverse workforce is more than numbers. "The plan is to blend community engagement with recruitment so we can attract candidates from parts of the community not traditionally targeted in the staff-recruitment process." 
This work also applies to the curriculum.
Case in point: "We looked at the dermatology curriculum through a DEI lens and saw opportunities for change," explains Loren Krueger, assistant professor of dermatology and chair of the department's Committee on Diversity, Equity, and Inclusion.  
Mary Spraker, associate professor and clerkship director, and Jamie MacKelfresh, associate professor and vice chair of education, championed these efforts, co-leading the "skin" portion of the Skin, Muscle, Bone, Joint course all first-year medical students take. The revised curriculum uses culturally diverse cases so learners can see how disease incidence, prevalence, and presentations vary in skin of color. Conditions such as dyschromia and hair loss are included, as is a unit on cultural humility taught by Krueger.  "Dermatology is the second-least-diverse specialty when you look nationally at who becomes a dermatologist. Making DEI visible in the curriculum not only better prepares young doctors to treat an increasingly diverse patient population; it also helps diversify the profession itself," says Krueger.
Goal 4  |  Creating a clear sense of visibility and engaging the Emory community, alumni, the Atlanta community, and regional institutional partners to promote equity (health, education, economic, and access to resources).
Jasmin Eatman 23M 23G is adamant: no one person can speak on behalf of everyone. "What happens in predominantly white institutions is that certain students from 'minority backgrounds' are singled out for leadership positions and that's extremely isolating. That's why I only work collaboratively with other students and that's both students of color and white allies."
Eatman founded the Council for the Advancement of Black Voices in Medical Education with Alyssa Greenhouse 22M 22PH and Mollie Elson 21M. One of the council's first projects is a narrative database to gather Emory medical students' experiences in medicine and at Emory. "If we're talking about making Emory Medicine more inclusive, then include us in the conversation. We don't need to be planned for; we need to be the planners," Eatman says.
Last year Eatman and her classmates used the community-based research process to urge the DeKalb County Board of Commissioners to pass a resolution declaring racism a public health crisis. As president of the Student National Medical Association Emory chapter, Eatman made the pitch. Chapter members crafted the resolution with DeKalb County Commissioner Larry Johnson and dozens more attended the virtual meeting. The resolution unanimously passed. The students also collaborated with the Morehouse School of Medicine chapter to pass a similar resolution in Fulton County. 
"When we look at what's happening, we have to ask, 'Do students of color feel empowered and dignified in this space, in this conversation, in this activity?' If at any time the answer is no, then it's wrong. Work with us to get to yes. The DEI plan is a start," Eatman says.
Goal 5  |  Commit institutional energy and resources, including infrastructure and programming, to create and sustain the long-term cultural and representational change necessary for the success of the journey from excellence to eminence to expand idea creation and stimulate discovery and innovation. 
For 20 years, Yolanda Hood, director of the School of Medicine's Office for Multicultural Affairs and the national Health Careers Opportunity Program, has worked to close the achievement gap for students underrepresented in medicine. Hood led the Learners Stakeholder Team during strategic planning and served on the steering committee and leadership team.
"The plan provides a clear structure to our work," Hood says. "It directs institutional resources to what we say we value and it aligns with the vision of our institutional leadership. Now we're actually walking the walk."
The walk includes the Emory Pipeline Collaborative (EPiC), which provides students from disadvantaged backgrounds with pathways to health sciences careers. High school students enjoy three years of college prep and health-career exploration to help them go to college. Those who matriculate to Emory receive scholarships and more.
"The scholarship money covered most of my tuition, which allowed me to invest in extra study materials to help me succeed. It took away the worry about affording scrubs and even gas to get to classes. Pipeline gave me a mentor who cared about me and supported me while my mom was being treated for cancer." Barcus now works for Emory Healthcare as a CT technologist.
Goal 6  |  Be intentional and transparent in how we communicate, implement, and measure equity and inclusion initiatives/innovations. Celebrate our accomplishments locally, regionally, nationally, and globally. 
Sharing good news about the medical school's DEI efforts is as collaborative as the work itself. For example, the Woodruff Health Sciences Center's Health Sciences Update debuted a monthly "DEI Highlights" section to showcase DEI successes from across Emory's health sciences enterprise. It was inspired by a team of 2021 Woodruff Leadership Academy fellows whose members included Heron and Calli Cook, clinical assistant professor in the Nell Hodgson Woodruff School of Nursing. 
As Cook says, "Oftentimes we don't celebrate what we do well because we're so busy doing the work. It's important to share what works in the medical school, for example, so the nursing school can do it too, and vice versa. Celebration increases momentum."  
Share This Story