A Life-Threatening Storm Leads to a Career in Emergency Preparedness
Disaster Doc
---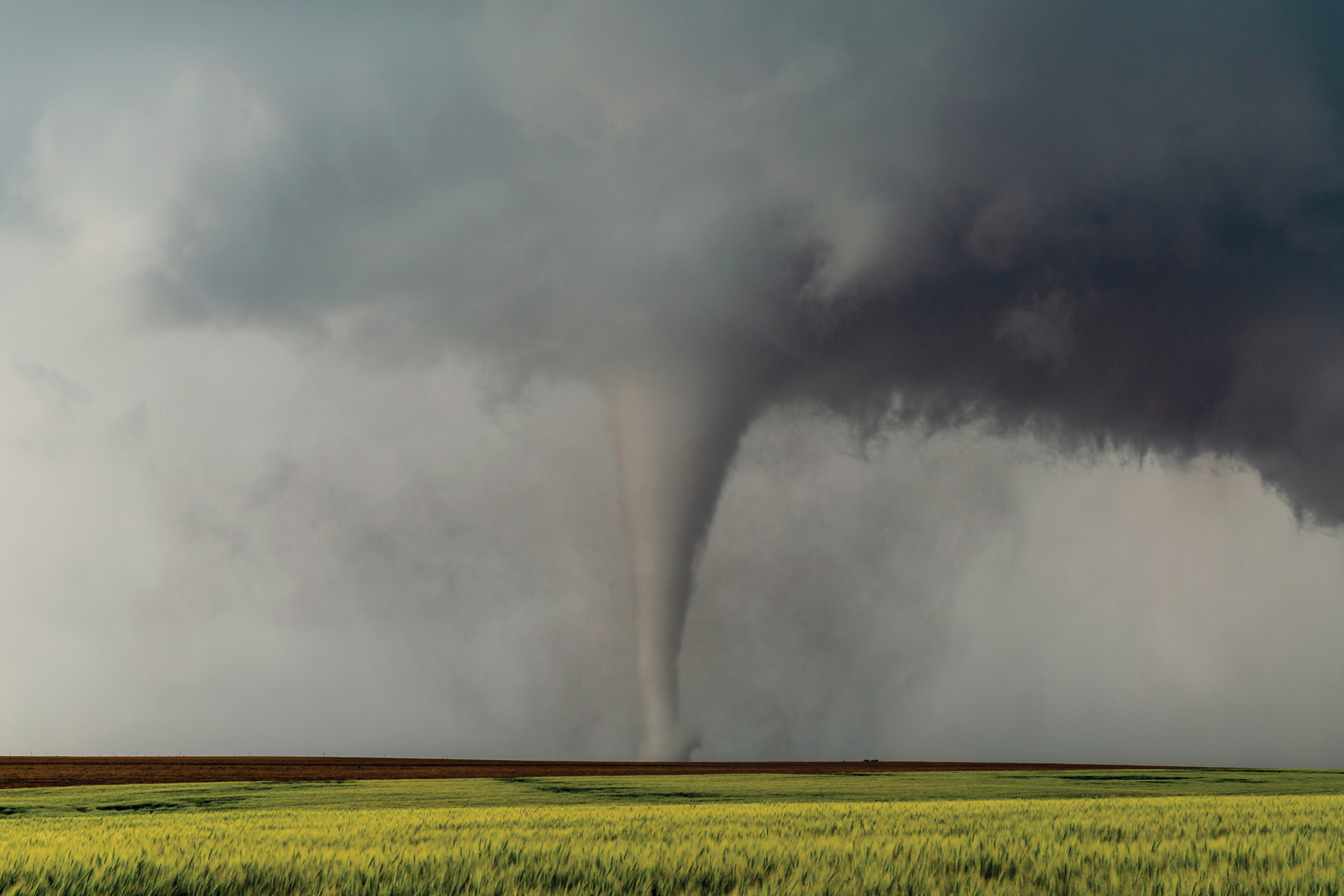 It came swirling from the sky.
Mark Keim was playing the album Led Zeppelin I in the modest house he and his wife were renting for $150 a month while he pursued his undergraduate degree at Southern Illinois University. 
It was 1982. Keim, just 20, already had taken on many adult responsibilities. He had lost both his parents and was guardian to his then 13-year-old brother.
All things considered, the Keims were doing all right. They had settled in Marion, a coal mining town in the southern tip of Illinois. There was a sizable lake nearby for fishing and boating, a few car dealerships, a Walmart. It seemed to be a typical Memorial Day weekend, if unseasonably warm.
That Saturday, Keim's brother was at a friend's house, Keim was studying, and his wife was cleaning the house. 
Keim and his wife were walking their puppy outside when the town's storm siren sounded. Looking off to the west, he saw darkened clouds and suddenly a twister came into focus. 
He remembered a book his mother had once purchased for him when he was young. They didn't have much but she somehow found a little extra when it came to books, instilling the value of knowledge and where it could take you. This book, he remembered, was on tornadoes. It was as if his mother were reaching out with one final gift for her diligent, intelligent boy. The pages appeared in his mind, and he knew that this was not the kind of storm you waited out.
He spotted bricks flying through the air from a nearby schoolhouse.
Keim and his wife sprinted for their aging Mustang. It was not always the most reliable car, but he prayed that this time the engine would turn over. Key in the ignition, the engine came to life. He recalled that tornadoes cannot make abrupt turns, so he quickly took a sharp right turn away from the storm.
After outrunning the storm's destruction, Keim was thankful to be alive. But now, he had to return. 
Forced to park 10 to 15 blocks away from his street, he saw that many structures—homes of people he knew, homes his friends and neighbors had worked hard to afford—were reduced to rubble. 
But what about his brother? 
Keim, powerless, realized fate had made its decision and all he could do was wait for the verdict. As he got closer to the house where his brother had been visiting, he breathed deep. He saw nothing. 
Then, he made out a standing figure and thought he recognized the posture. He ran to his brother and hugged him hard. 
Keim and his family looked at what was left of their house. It had been picked up from the foundation, its walls and roof stripped away, and the main structure relocated to the driveway.
Marion, Illinois, had been hard hit: 10 people would be reported dead, more than 1,000 families displaced, and Keim, his wife, Kelly, and his brother, Bryan, were forever changed. Keim never forgot that they were spared. He never forgot that others weren't.
A Life Changed
Receiving his MD from Southern Illinois University in 1991, Keim would choose an emerging specialty, disaster medicine, for the direction of his career.
Keim completed a disaster medicine fellowship at Emory's medical school in the department of emergency medicine in 1995. He served as chief medical officer for the US National Disaster Medical System's deployment to the Red River flood and a medical officer helping after Hurricane Marilyn, the most powerful hurricane ever to strike the Virgin Islands. 
"The responses taught me a lot about quick reactions but also limitations," Keim says. "These devastations would sometimes take me back to my own experience, and all I wanted to do was help these people."
Keim, who completed research with the Centers for Disease Control and Prevention (CDC) during his two-year fellowship, would join the CDC after fellowship completion, staying with the agency for more than 15 years.
He became an associate director for science at the CDC in 2012, reviewing the organization's documents as a scientist participating in the clearance process.
 "Each one of the centers has an associate director for science and I was responsible for peer review," he says. "I'd either authorize the document, send it back for revision, or deny it. I worked in association with multiple associate directors around the CDC."
He also served on the White House Subcommittee for Disaster Reduction for almost a decade. "We would meet monthly, and I was a rep for the CDC. There were reps from cabinets and the HHS, NIH, and more," says Keim, who received the United Nations Sasakawa Certificate of Merit in 2015. 
DisasterDoc Deployed
Retiring from the CDC in 2015, Keim started the Atlanta-based DisasterDoc, an international firm specializing in consultation, education, and research related to public health emergencies. As CEO, Keim travels the globe to consult on disaster planning—and he believes climate change will cause even more natural disasters to occur on a more rapid trajectory. 
"People sometimes think disaster medicine is only about going in after a disaster and minimizing the damage," he says. "But that's not where you prevent the fallout. It's not just how you deal with the first disaster but in how you prepare for the disasters that could come after. You also do a lot of facilitating and organizing—but it's the people who live there that have the knowledge. You just help figure out how they would deploy it."  
Recently, he worked on a project funded by the CDC as a private consultant for territories in Puerto Rico—one on the coastline and one in the mountains. They developed a plan that could be put in place four or five days in advance of potential hurricanes, to prevent damage or loss of life. 
Time of impact is too late
"It's about asking questions such as, 'Where do we evacuate people to beforehand?' 'What are our options?' About 80 percent of all disaster-related deaths occur at the time of impact, when the water is coming up or the wind is blowing, and no one can help you then."
He also served as a field manager after the Indian Ocean tsunami in Indonesia. 
"I thought I'd seen everything—disasters of war, natural disasters—but you could see absolute devastation even after flying for three hours over the area impacted by the tsunami," he says. 
Not all of his work has Keim deep in the field where disasters have recently struck. A project for the World Health Organization involved reviewing and revising literature around the world concerning public health emergencies. 
Keim looks back on that devastating tornado in Illinois some 40 years ago. "It was just a regular day in Marion and then it wasn't," he says. 
He believes he would still have been a doctor, even if there had not been a tornado. "But my career path would have been so different," he says. 
When large-scale, life-threatening situations emerge, such as the pandemic, says Keim, they make every day precious.   "So many people are going through their own experience of this now," he says. "To survive makes you appreciate life even more."
Share This Story